Navigating the Advanced SOL Capital Portal
Stay connected to your financial picture
We are very excited to share our new ADVANCED client portal. From your advanced portal, you have access to unique information and insights, account details, your investment dashboard, a document vault, instant access from any of your devices, and more. In this post we will provide a general overview of how to set up and navigate the advanced portal client experience. 
Scroll down to review in detail or click on the links below to skip over sections. At the end of each section you will be provided a link to bring you back to the section links, here.
What you will learn in the overview
For a more personalized tutorial or tour of the platform, please contact your client relationship manager, or schedule a tour by clicking on the link below.
---
Account activation & setup
When the new advanced portal is activated, you will receive an email confirmation from noreply@bdreporting.com with your username, and a temporary link to complete the account setup. The account setup link will remain active for 7 days.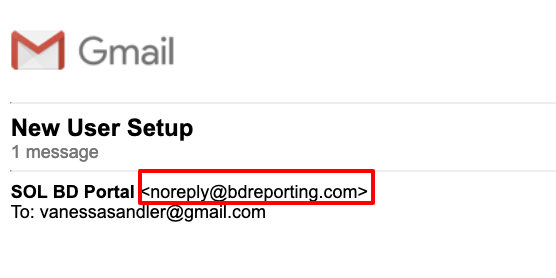 Complete the activation process by clicking on the button or the link provided. You will be asked to complete the following:
1. Set security questions
2. Set password
The password must include a minimum of 8 characters, both upper and lowercase letters, and numbers.
3. Accept terms of use
Blackdiamond is the platform that the advanced portal technology is built on. Please review and accept the Blackdiamond terms of use order to access your portal.
---
 login via web browser
The portal is available in both web and mobile app versions. In order to access the web version of the advanced portal, click on the link below.
Or copy and paste the following URL into your browser:
https://bd3.bdreporting.com/solcapital
---
 login via mobile application
The mobile app versions of the advanced portal is available for download through the Black Diamond Wealth platform apps in the Google Play and Apple App Store. Please click on the below link to download the Black Diamond app for your device:
---
Login issues
How to access your account if you have trouble logging in.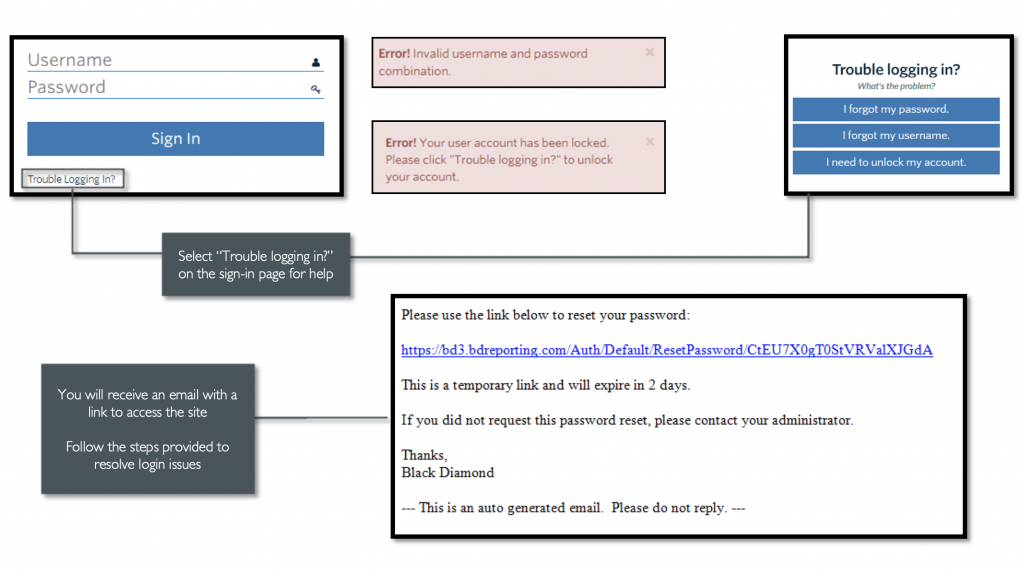 ---
 HOMEPAGE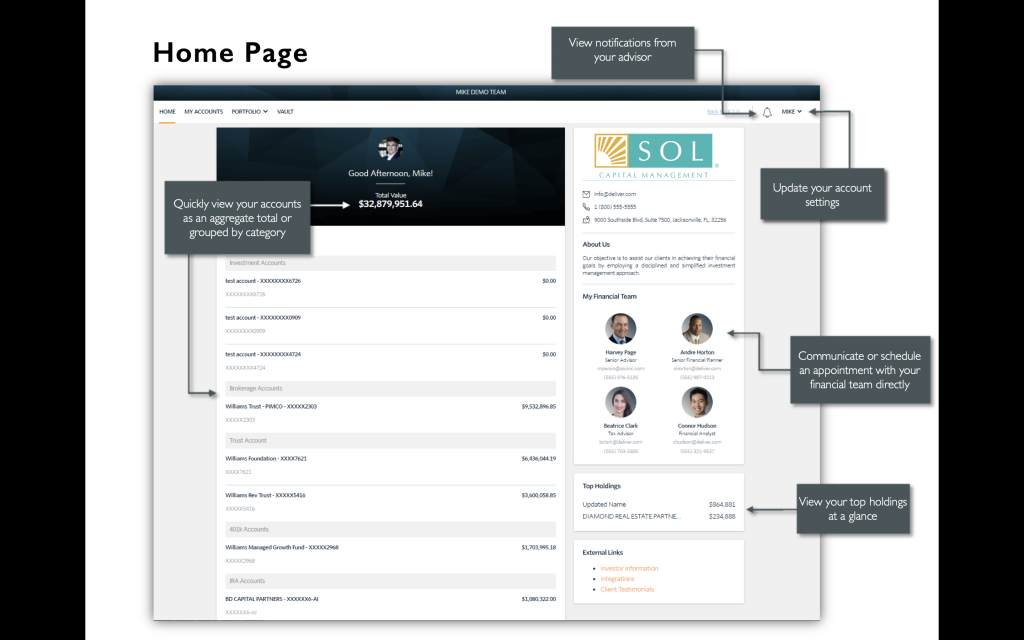 At-a-glance view of pertinent account information
When you log in, you'll see your personalized home page. Across the top, you have quick access to the other pages of your portal.
Your accounts and total portfolio value are listed front and center. Next to your accounts, you'll also find your top holdings for quick reference.
You can stay connected to your financial team with clickable links to phone numbers, emails, and office locations.
You can also quickly contact your Advisor while on the go. In addition to contacting us, we will send you communications and updates from your team—all directly within the portal.
---
 PortFolio Dashboard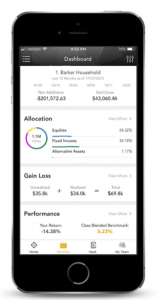 The Portfolio dashboard is where you can view additional details about your portfolio. The dashboard gives you a dynamic overview of your portfolio with performance cards highlighting key information of your portfolio.
To get even more detail, you can click on the title of each card. You can also use the drop-down menu to switch between the different cards quickly.
All of this is completely customizable using the filters to select specific date ranges, portfolios, or accounts.
TWR & IRR
These new tools provide on-the-go access to performance data via the web and mobile app. For the best experience accessing performance information, please log into the web portal to see both TWR & IRR data or contact your SOL Capital representative to post reports to your portal. The "Return" value displayed in the web and mobile apps in the charts represent Time-Weighted Return. The Internal-Rate of Return can be accessed from the web only, by clicking on the performance card and clicking on the "Details" tab.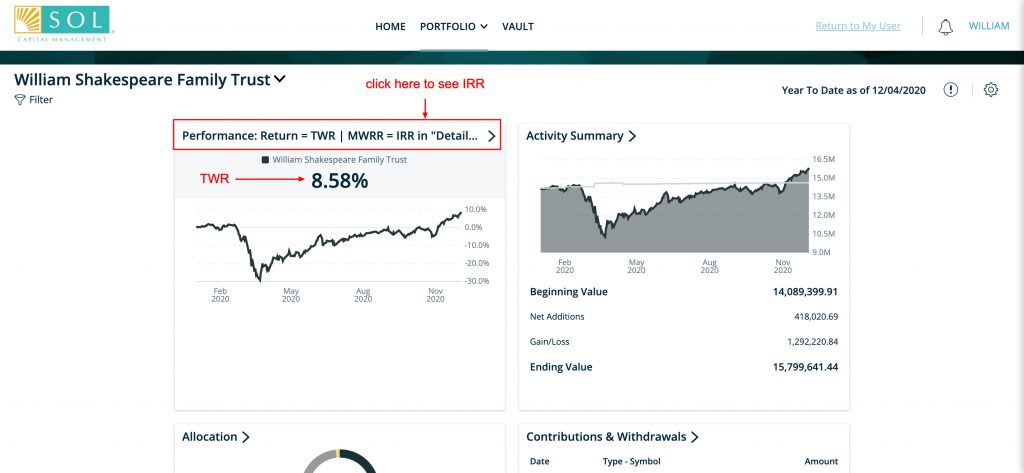 Continue scrolling to the right until you see the column label "MWRR", which represents IRR.
COMING SOON: RUN YOUR OWN REPORTS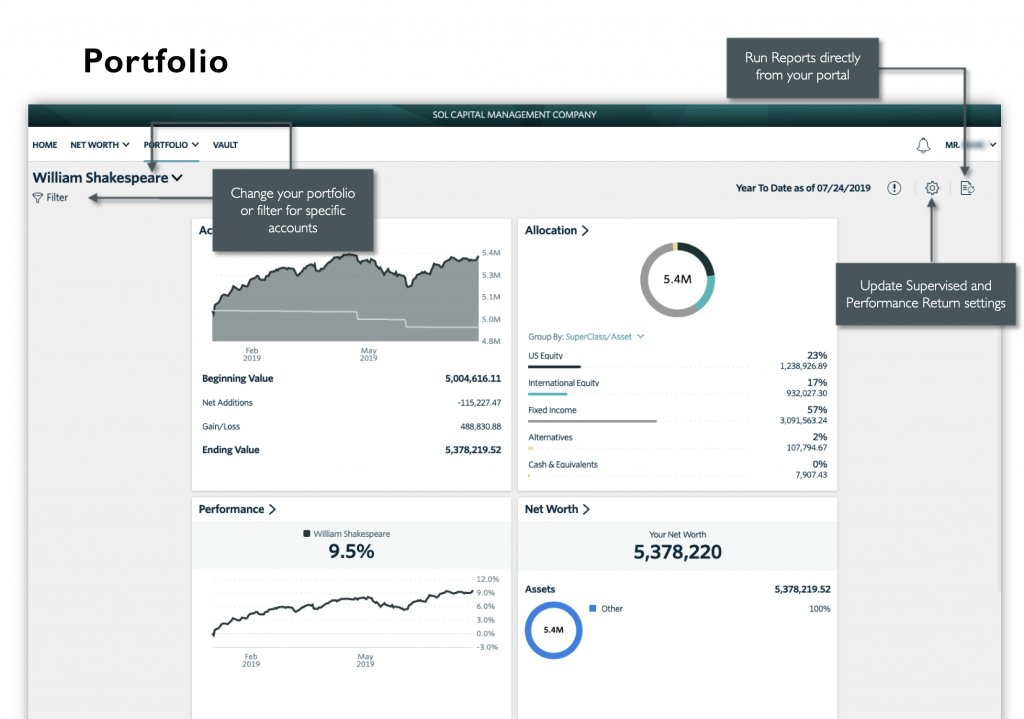 ---
MY Accounts
Click on "Net Worth" in the navigation menu to see the drop-down menu and click on "My Accounts".

On the My Accounts page, you can see a detailed list of your accounts. Balances and statuses are viewable at a glance. You can expand each account to see your holdings and their individual values.
Keep track of their status and updates directly from your portal.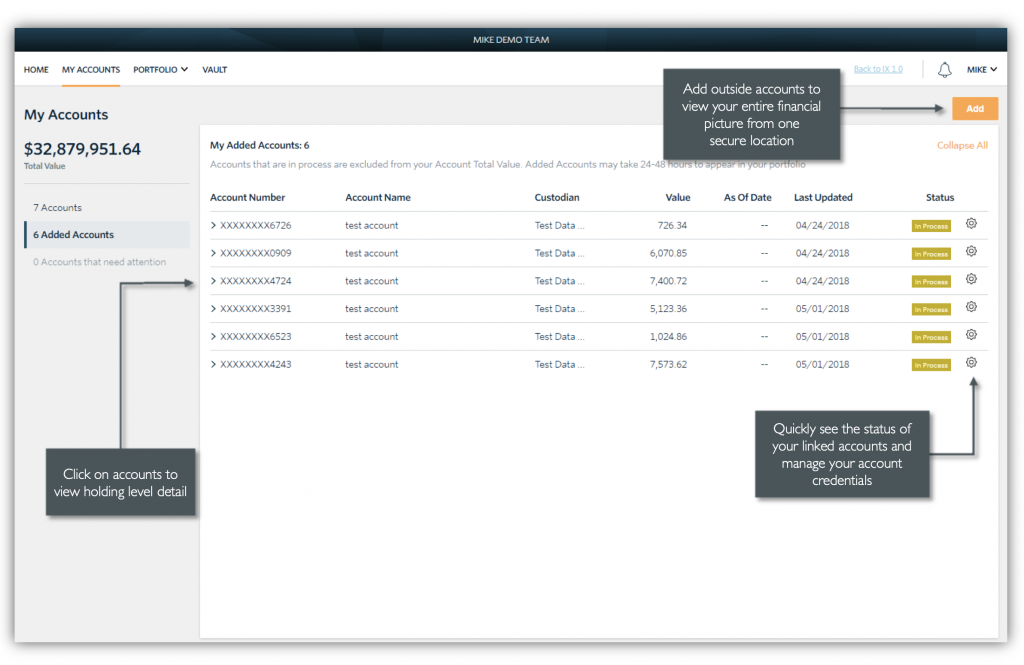 Add Accounts
Clients also have the option to aggregate assets and liabilities managed outside of SOL such as bank accounts, credit cards, 401K plans, and annuities. The primary purpose behind this feature is to provide clients with a unified view of their financial picture.
To add account, select Add in the top right corner of the My Accounts page. A menu will appear allowing the client to Choose an institution from the portal's aggregation capabilities or to Add Manual Asset or Liability.

When choosing to add an account through the aggregation tool, the wizard will guide you through the setup process, which includes the following steps:
Search for the institution (ie. Schwab, Pershing, J.P. Morgan, Morgan Stanley etc.)
Enter Credentials when prompted
Answer any Challenge Questions required
Finally Aggregate accounts
Repeat this process again to aggregate assets from additional custodians
Use the Gear icon next to the status column to update the credentials for an account or remove that account from aggregation on your portal. Accounts that are in process are excluded from the Account Total Value. Added accounts may take 24-48 hours to appear in a portfolio.
When choosing to manually add an asset or liability, you will be prompted to complete a list of the following:

Asset Type: Options include Art, Boat, Car, Home, Jewelry, Other Asset, or Other Liability
Account Category: Asset or Liability (category selection is required for inclusion in Net Worth reporting
Account Name
Valuation Date: The first valuation date will set the start date of the account
Market Value
Once created/added, use the Gear icon to make updates to the added asset or liability. Click Remove to delete an account, once removed the account is closed as of the current date.

---
Daily Portal updates
The advanced portal is powered by daily data updates. Enabling clients to access their portfolio information anytime, anywhere, at their convenience – all through an easy to use platform. Portal data updates take place twice per day. Once, starting around 10:30 AM, which loads data from the previous business day.
EXAMPLE: on Monday, December 7th  2020 at 10:35 AM, the platform displays data from the end of business on Friday, December 4th.
The second daily portal update takes place around 7 PM, which loads data from the previous business day plus any updates on cost basis, withholding tax, and transaction comments that are added after 10:30 AM.
EXAMPLE: on December 7th 2020 at 7 PM, the platform loads data from the end of business on December 4th, and includes any updates described above that were added after 10:30 AM on December 7th. Updates to cost basis, withholding tax, and transaction comments are always added to our system on the next business day, and are included in the second data update for the portal every day.
---
Activity Summary
View activity and changes in your portfolio or account balance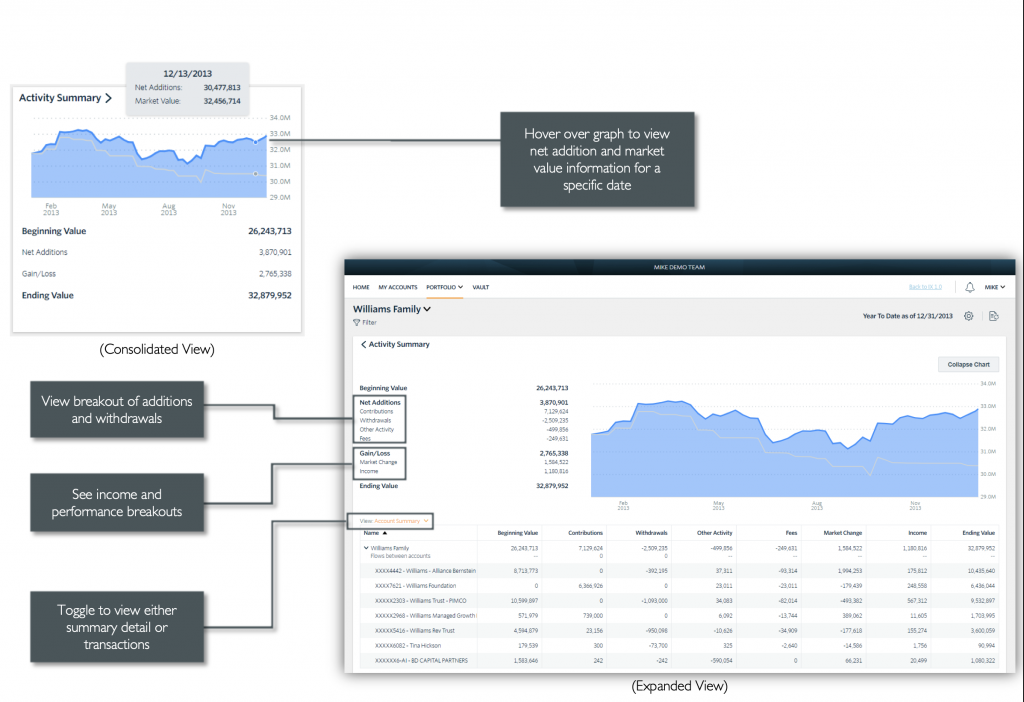 ---
allocations
View the allocation breakdown of your portfolio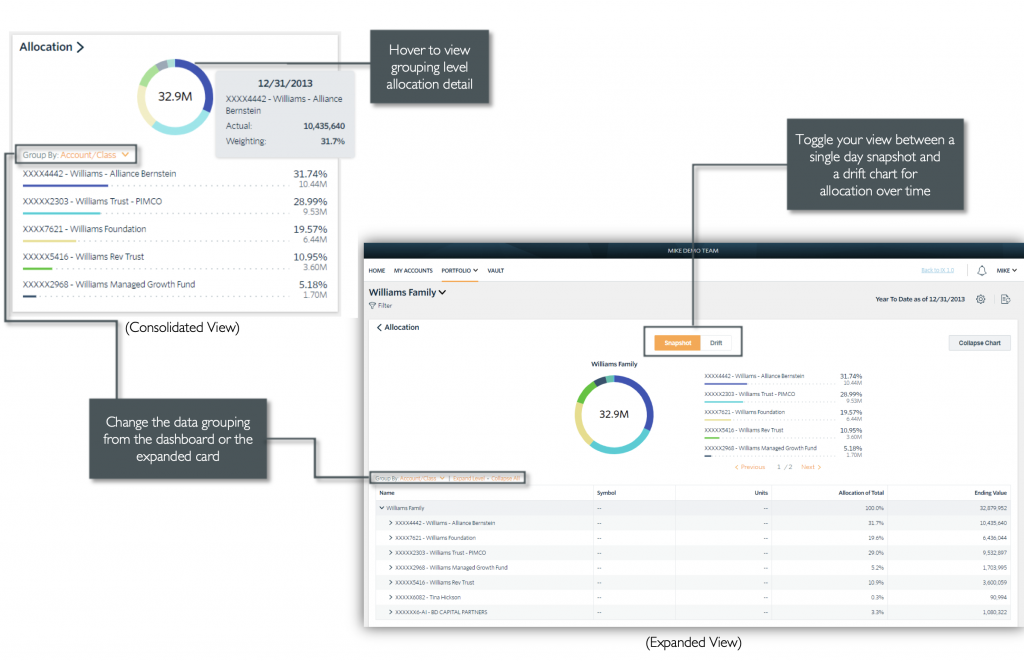 ---
Transactions
View and filter the most recent transactions in your portfolio
---
Gain loss
View realized and unrealized gain/loss information for your investments

---
Net worth
View information specific to your Assets and Liabilities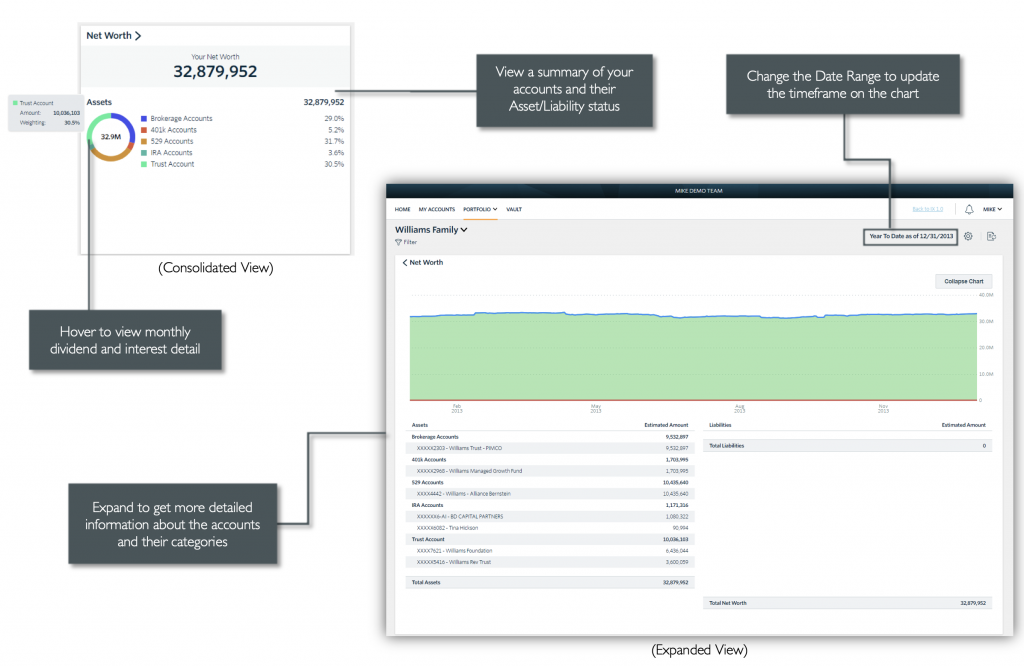 ---
Performance
View investment performance across your portfolio.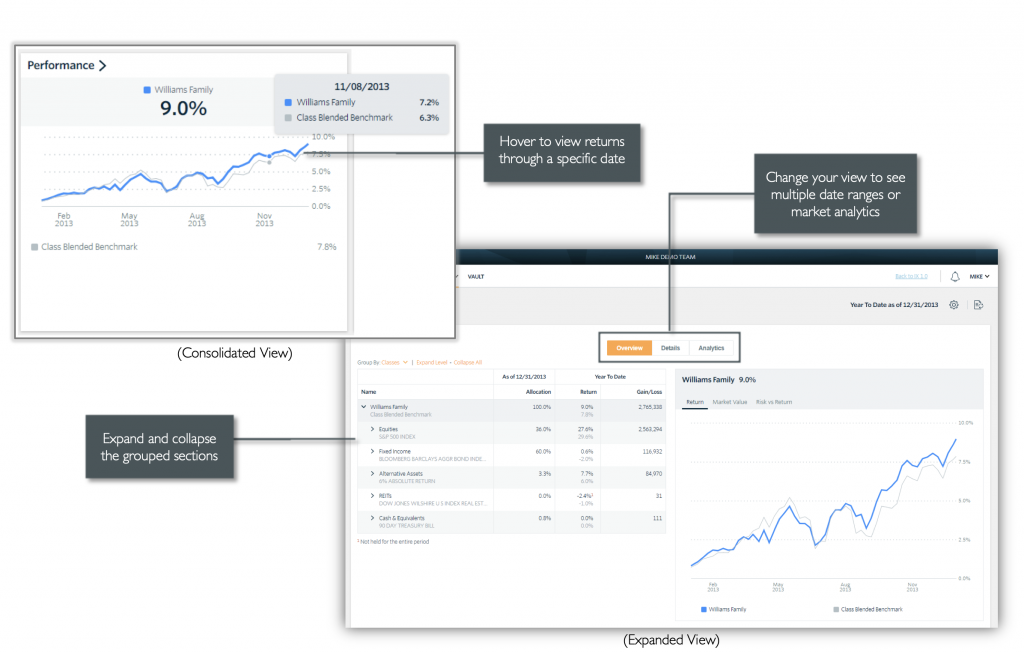 ---
Document Vault & Paperless options
The document vault is a secure way for SOL to share important account related documents with clients. It also provides clients a way to securely share files, and photos of signed documents with SOL. The document center is one way SOL is making paperless options available to clients. A digital version of SOL reports and additional content sent via mail or email will also be posted here for your records.
For those who were receiving content in the old portal, the same content will be posted here in the document center. Please contact your client relationship manager or email us to request any content you would like to see in addition to the quarterly reports and management fee PDFs provided.
If you do not see any documents in your document center, please contact your client relationship manager or email us to update your document center.
Interested in going paperless?
Please  contact your client relationship manager or email us to confirm that we have your approval to proceed with paperless communication only.
---
 What if I do something wrong or if i Get stuck?
The great news with this new portal is that it is impossible to break. Feel free to click around, explore and reach out to us if you have any questions.
We are so excited to share the portal upgrade with our clients. The new portal is part of our commitment to providing the best client experience online and off. If you notice any issues, or if there is room for improvement, we want to hear from you – please call your client relationship manager or  email us with any feedback!
Thank you for taking the time to learn about the new client portal. We look forward to continuing our journey together in 2020 and beyond.