Navigating the New SOL Capital Portal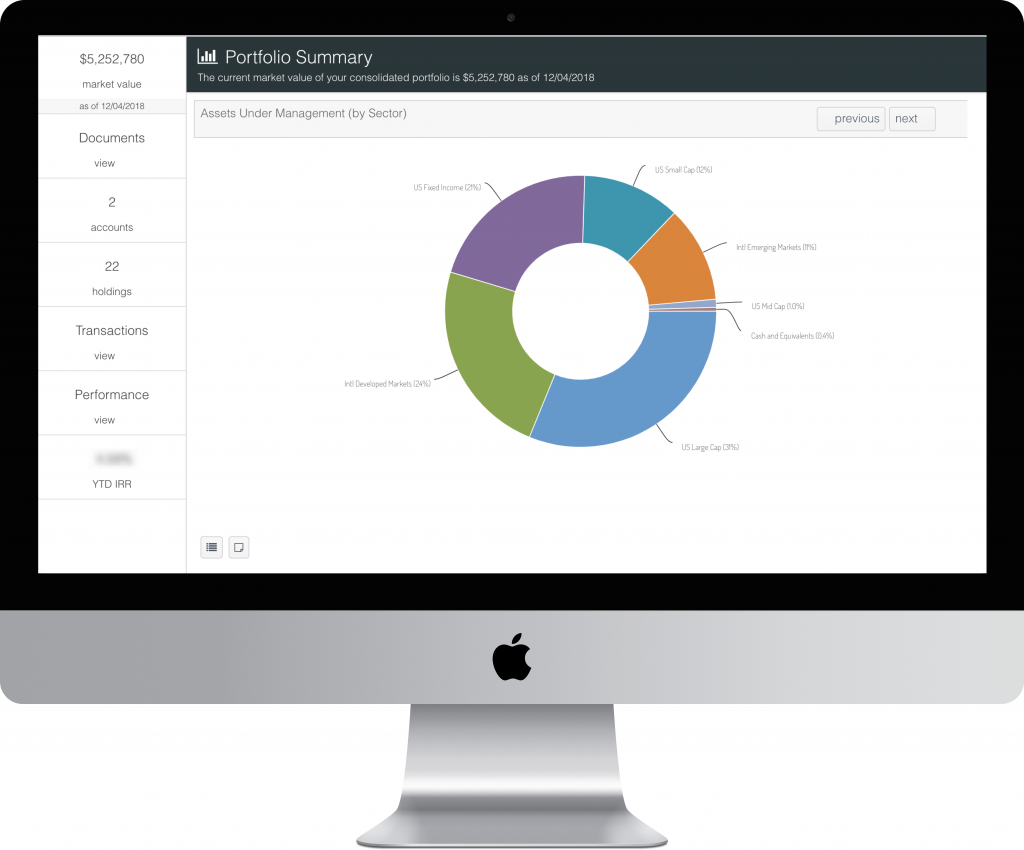 We are very excited to share our new client portal. By now you should have received information via email about getting access. In this post we will provide a general overview of how to navigate your portal, and find the information you are searching for. 
Scroll down to review in detail or click on the links below to skip over sections. At the end of each section you will be provided a link to bring you back to the section links, here.
What you will learn in the overview
For a more personalized tutorial or tour of the platform, please contact your client relationship manager, or schedule a tour by clicking on the link below.
---
LOGGING IN FOR THE FIRST TIME
When the new portal is activated, a new username and password will be assigned to you. Your username will be your email address and a temporary password will be provided for you in the activation email. Please change your password once you have logged in.
---
Change password & Forgot Password
You will be provided a password when your portal is activated or reset. We recommend changing that password once you login to something that is not easily identifiable. Changing your password in the portal is easy.
Click on your name in the upper-right corner of the app
Select "Change Password"
Enter your existing password
Enter a new password and verify
Click on "update password"
Done!
If you ever forget your password, go to the login page and click on "Forgot your password?" This will reset your password and email you with a new temporary password to use.
---
Logging in from the new website
---
 Portal HOMEPAGE
Clients who prefer to view different groups of accounts separately will have the option to select which group of accounts they would like to view when they login.
Click on "Select" to open up the homepage, which includes the portfolio summary for the selected accounts. The homepage gives you the portfolio summary with information about your asset allocation, accounts and top holdings. Navigate these charts by simply clicking on the "Next" or "Previous" (located to the left and right of the charts). If you are on a tablet device, use your finger to swipe through these charts. Clients who prefer to see all their accounts in one group will be presented with the homepage directly when they login.
---
 Portal menus & PORTFOLIO SUMMARY
If you need to return to the Portal Home, simply click on the SOL logo located in the upper left corner.
---
Daily Portal updates
We are excited to announce that our new portal is powered by daily data updates. Enabling clients to access their portfolio information anytime, anywhere, at their convenience – all through an easy to use platform. Portal data updates take place twice per day. Once, at 10 AM, which loads data from the previous business day.
EXAMPLE: on December 31st  2018 at 11 AM, the platform loads data from the end of business on December 28th.
The second daily portal update takes place around 3 PM, which loads data from the previous business day plus any updates on cost basis, withholding tax, and transaction comments that are added after 10 AM.
EXAMPLE: on December 31st 2018 at 3 PM, the platform loads data from the end of business on December 28th, and includes any updates described above that were added after 10 AM on December 31st. Updates to cost basis, withholding tax, and transaction comments are always added to our system on the next business day, and are included in the second data update for the portal every day.
---
Account Summary
Click on the "ACCOUNTS" tab in the side bar and select "Next" to view the information and charts available regarding your Account Summary.
---
Account Performance
Access the account level IRR by clicking on the account name whenever it appears in the portal in the portfolio summary or the account summary. This will open the account performance overview page, and additional information about YTD trend, Account Allocation, Account by Asset Class, Account Holdings, and Transactions can by accessed by clicking "Next".
---
Export account level transactions to an excel file
When viewing account performance, continue to click "Next" until you've reached the account level transactions table. It is the page following the account level holdings table, and offers the same sorting and filtering capabilities. The primary difference on the account level transactions page is the export to excel feature, which enable to the user to export the entire account level transaction information into an excel file.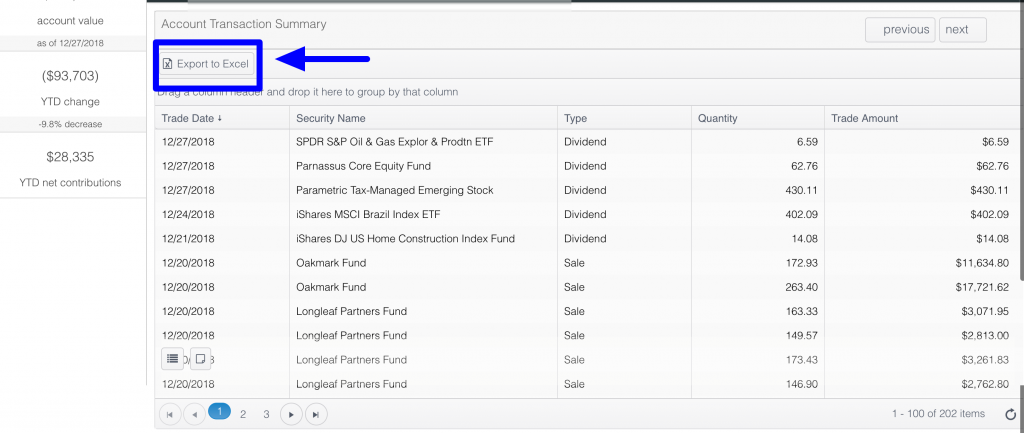 ---
Month over month account change in account values, & net contributions
When viewing the account level performance, click on the sidebar link "YTD Change" to view the month over month change in account value.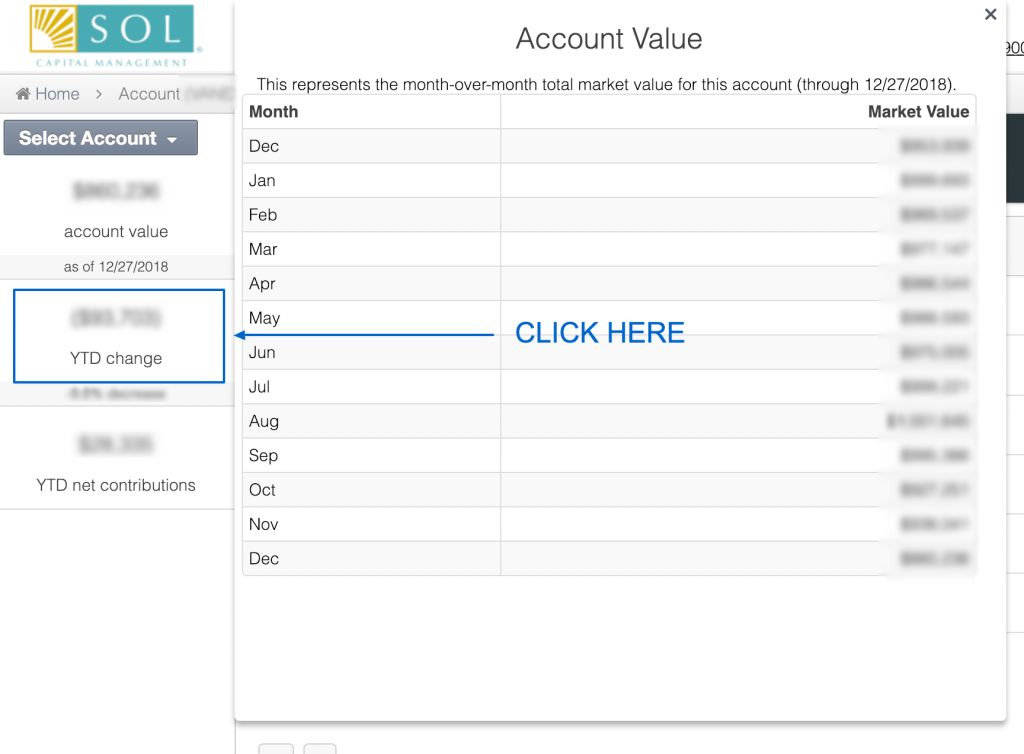 To view YTD net contributions and withdrawals, click on "YTD net contributions" in the sidebar. Contributions are listed as whole values, and contributions are indicated with double parenthesis "(())".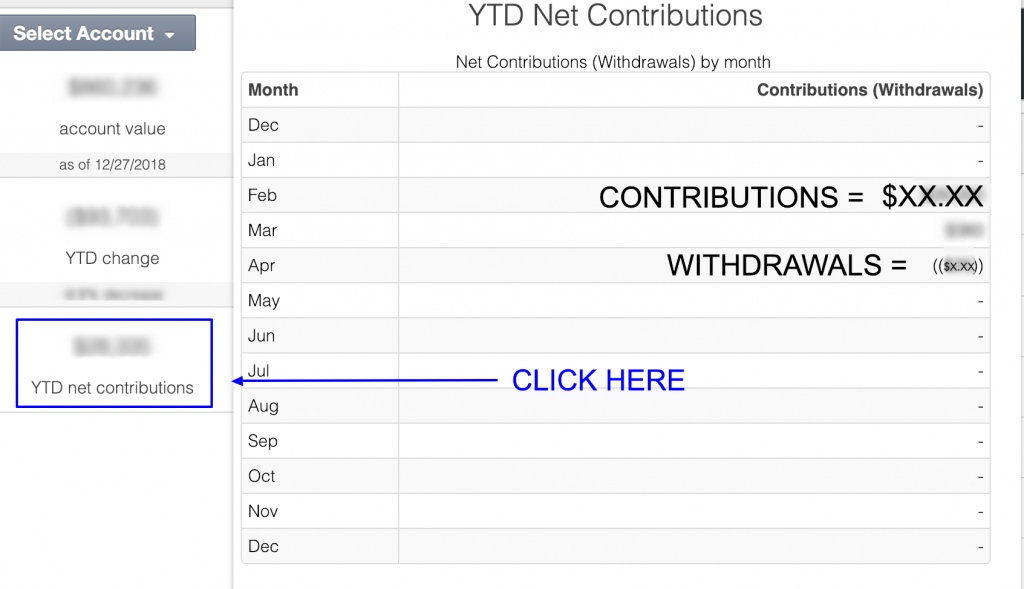 ---
Consolidated Performance in the Portal vs consolidated performance in SOL PDF REPORTS
More details about your consolidated portfolio are available on the performance page, which can be opened by clicking on the "Performance**" link in the sidebar menu.  This will open the consolidated performance disclaimer, which is a friendly reminder that the consolidated performance IRR calculation provided by the portal may differ from the consolidated IRR value provided in SOL PDF reports.
There are a few reasons why the consolidated IRR calculation may differ from that provided in the most recent SOL PDF report.
The daily portal data updates are limited to account level IRR calculations. In order to provide a consolidated calculation, the platform calculates a default IRR based on the individual account IRR values and

DOES NOT

consider contributions and withdrawals. This can result in a skewed calculation while SOL PDF reports provide consolidated IRR values that

DO

take contributions and withdrawals into account.
The most recent SOL PDF report may not have the most up to date data. The best person to contact with questions about your consolidated IRR is your client relationship manager.
Please note that this disclaimer applies to every place in the portal that displays a consolidated IRR value provided by the platform. This includes the consolidated performance pages and the statements page. SOL consolidated IRR calculations will be provided via PDF reports in the document center.
For the most up to date consolidated IRR information please call your client relationship manager or send us an email.
---
Portal Transaction labels & Symbols
There are two types of transaction data available to you in the portal: account level data and consolidated data.
Account level data can be exported to a PDF File, and the consolidated transactions page, which can be opened from the top level menu, or sidebar, includes a search tool. The search tool is really useful if you would like to search for one of the following:
"Dividend"
"Purchase"
"Sale"
"Contribution"
"Interest"
"Deposit" (how the portal identifies fees)*
Security Name
*The "Deposit" label for fees refers to a deposit to the management fee account. It is an odd quirk in the portal, which we wanted to point out while we figure out a better solution. In the meantime, we will continue to post our management fee PDFs in the portal document center for you to keep for your records.
---
Portal Document Center & Paperless options
The document center is a secure way for SOL to share important account related documents with clients. It also provides clients a way to securely share files, and photos of signed documents with SOL. The document center is one way SOL is making paperless options available to clients. A digital version of SOL reports and additional content sent via mail or email will also be posted here for your records.
For those who were receiving content in the old portal, the same content will be posted here in the document center. Please contact your client relationship manager or email us to request any content you would like to see in addition to the quarterly reports and management fee PDFs provided.
If you do not see any documents in your document center, please contact your client relationship manager or email us to update your document center.
Interested in going paperless?
Please  contact your client relationship manager or email us to confirm that we have your approval to proceed with paperless communication only.
---
What are the portal "statements"?
"Statements" can be accessed from the top level menu and will provide a detailed snapshot of the following on a YTD basis:
Your consolidated portfolio (all accounts under management)
Individual account information
Account holdings
Asset Allocation
Performance & Activity*
*NOTE: the consolidated performance IRR presented here may differ from the SOL PDF reports
---
 What is 2-factor authentication and how to enable it
2-Factor Authentication helps secure your Portal Account by requiring a security code (sent to your mobile phone) as well as your username/password in order to login. Users have the option to enable this setting once they are logged in. To enable, click on the drop down with your name and select "Update Profile". This feature requires a US cell phone number that is able to receive SMS messages. Once enabled, on your next login you will be required to enter the code sent to your mobile phone for login validation.
---
 What if I do something wrong or if i Get stuck?
The great news with this new portal is that it is impossible to break. Feel free to click around, explore and reach out to us if you have any questions.
We are so excited to share the portal upgrade with our clients. The new portal is part of our commitment to providing the best client experience online and off. If you notice any issues, or if there is room for improvement, we want to hear from you – please call your client relationship manager or  email us with any feedback!
Thank you for taking the time to learn about the new client portal. We look forward to continuing our journey together in 2019 and beyond.